Are you interested in getting your child started in racing? You've come to the right place! We're here to answer many of the questions that might be running through your head if your kid has a need for speed. Still have more questions? Reach out to us anytime at 844-YRA-KIDS!
What kinds of youth racing exist in the US?
More than you probably realized! Here's a list of just a few of the many forms of youth racing available in the United States.
Go-Karts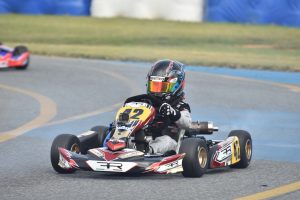 Go-karts are likely the most popular form of youth racing. While adults can partake too, children can start out in the kid kart/putt putt level as young as 3 or 4 years old. At that level, children begin in flat karts only a few feet long with a Comer C-50 2 stroke engine. They have 1.5 hp and can reach speeds of 25 mph. Once kids reach 8 years old, they can begin moving up into the junior divisions. These karts are full size go-karts with restricted engines. These engines vary depending on the track and class and can include clones, Briggs LO206, Predators, or flatheads. These engines vary in horsepower but roughly range from 6-14 hp and very in speed from 30-60 mph depending on age/class. There are two different kinds of go-karts: offset and road course karts. Offset karts are self-explanatory – the driver sits offset on the left because these karts are raced on oval tracks, primarily on dirt, coke syrup, or asphalt. The weight shifted to the left helps the karts rotate to the left around the track. In road kart racing, the driver sits in the center of the kart and they race on tracks with many twists and turns, both left and right. In both offset and road kart racing, above the age of 14 drivers can enter shifter kart classes with larger motors and much more speed.
Outlaw Karts
An outlaw kart is similar to a go-kart but looks like a sprint car. They have a go-kart base with a cage on top. The cage sits on top of springs that allows the cage to "float", and also lessens the impact if the kart were to get upside down. Unlike shocks, these springs are directly beneath the cage, and because of that they still do not have suspension just like a go-kart. Outlaw karts have a wing, hood, tail, bumpers, and nerf bars just like a real sprint car. Kids can get into outlaw karts around 5 or 6 years old. The beginner classes usually range from roughly 5-8 years old in a restricted division, with the next class (box stock) usually ranging from 8-12 years old. These karts weigh around 300 lbs with the driver. From there kids can move into higher, faster divisions including Intermediate, 125cc, 250cc, 450/500cc. Adults race in the 450/500 divisions. Manufacturers for outlaw karts include companies like QRC, RFC, SKE, Phantom Racing Chassis, and more. Go-karts can also be converted to outlaw karts through custom build cages.
Junior/Micro Sprints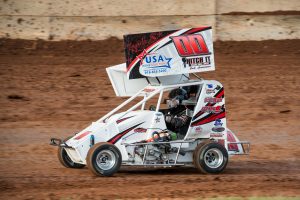 Junior sprints and micro sprints are almost identical to sprint cars but shrunken down. They have a top wing, nose wing, and shocks. A junior sprint is smaller than a micro sprint and is the entry level into micro sprint racing. Junior sprints are for 6-12 year olds and run a Briggs and Stratton World Formula engine. This class can reach speeds of around 45 mph. At the age of 9, drivers can move up to the Restrictor division. This division consists of a full size micro sprint car with a restricted 600cc 4-cylinder motorcycle engine. These restricted engines have 60 hp and clutches/shifters. The next division is the A-Class division (min. age 12 or 13) which is the same car as a Restrictor but without the restrictor plates. The engines are stock engines. The top division is the Outlaw division (min. age 14). It's the same car, but the motors are not stock and there are less restrictions overall. Micros weigh around 775 pounds. There are also Stock Non-Wing and Outlaw Non-Wing divisions which are the same as A-Class and Outlaw but without the wings. Many drivers will compete in multiple divisions with the same car.
Quarter Midgets
Quarter midget racing is one of the most popular forms of youth racing. Many quarter midget races are sanctioned by USAC, the United States Auto Club. USAC also sanctions professional midget, non-wing sprint car, and Silver Crown racing. There are 50 USAC quarter midget clubs across the country and many offer 'arrive and drive' events where your kid can test a quarter midget before purchasing equipment. Quarter midgets are "quarter sized" versions of a full size midget. These cars race primarily on small asphalt ovals (roughly 1/20th to 1/10th mile tracks) but can also race on concrete or dirt. The engines are manufactured by Honda or Briggs and Stratton and have between 2.5 to 6 horsepower. They have to be pushed by the parents to be started (which tends to be quite entertaining at times). This is a low maintenance, affordable, and fun way to get your kid started in racing. There are 15 different divisions ranging in age from 5-16 years old.
Junior Drags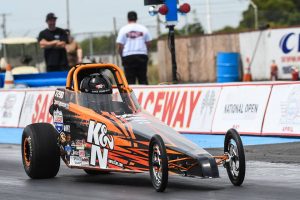 Junior drag racing is exactly what it sounds like – mini versions of the loud, high speed NHRA Top Fuel dragsters. Kids from 5-17 years old can compete in different divisions and can go as fast as 85 mph. The engines are single cylinder engines with 5 hp and can travel down a 1/8th mile track in less than 8 seconds! NHRA has 130 member tracks that offer weekly junior drag racing leagues where kids can race to earn points towards a championship.
Bandoleros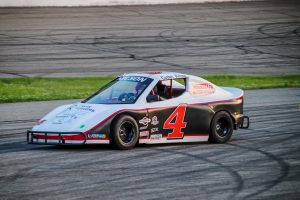 Bandolero cars are one of the most fun forms of youth motorsports, and there's nothing cooler than seeing your kid race wheel to wheel in a miniature NASCAR style stock car. There are two divisions in bandolero racing: the bandit division (8-11 years old) and the outlaw division (drivers over the age of 12). Bandoleros are 10' long and 3' tall. The have a sealed Briggs and Stratton Vanguard engine with 30 hp. They weigh 550 lbs., coil over shocks, and 6" wheels. Bandoleros have centrifugal clutches so the driver doesn't have to shift. Bandoleros are a stepping stone to legends or late models and race on asphalt, oval tracks.
Legends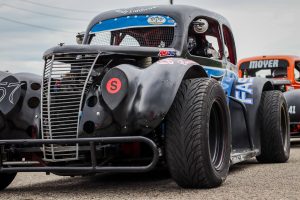 Legends were the stepping stones for many asphalt racing stars and have a reputation for teaching young drivers a lot about car control and tight, fast racing quarters. While adults can race legends, the youth divisions include a Young Lions division for 12-15 year olds and a Semi-Pro division for drivers 16 and older. Legends are a 5/8-scale fiberglass full-fendered version of the famed NASCAR modifieds driven by legendary drivers Fireball Roberts, Curtis Turner, Speedy Thompson, and more. They have a sealed Yamaha fx09 engine with 125 hp and weigh 1,250 lbs with the driver.
Other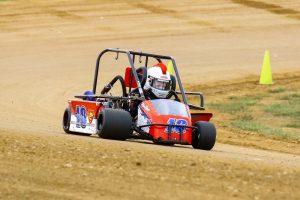 There are many other kinds of youth racing including cage karts, mini mods, off road racing, and more! However, the forms above are some of the most popular, and you're sure to find them in your area.
How much does youth racing cost?
On average youth racing costs $3,000-$10,000 to get started. Before that information deters you, keep in mind those numbers represent assets that can be resold. Most racecars and trailers hold their value really well if maintained properly. It is entirely possible to spend $500-$1,000 per year for your child to race an entire season. Additionally, compared to other sports, there's many more ways to fund your child's racing through sponsorship, donations, fundraisers, merchandise sales, race winnings, and more!
How should I fund my kid's racing?
As mentioned above, there's a variety of great ways to fund your child's racing. The most important thing to keep in mind is to involve your child in this process. Racing gives your child the opportunity to learn valuable life skills such as networking, budgeting, selling, shaking hands, creating presentations, marketing, building relationships, and more. Sponsorship is the most common form of funding a race team. We do not recommend seeking sponsorship without a marketing presentation. YRA offers marketing presentations under our Resources tab, and it's a seamless, affordable, and effective process that will help you seek the funding you need. From there, involve your child in the process of reaching out to potential companies, and if meeting in person, have the child present their presentation to a potential sponsor. For more advice on sponsorship, view the videos under our Resources tab. Whether you're seeking sponsorship or donations, start with the low hanging fruit – friends, family, and connections you already have. From there, look for people or businesses in your community that might make a good fit. Get creative! For younger racers, events like fundraisers are perfectly ok. Children in other sports have fundraisers, and you can too. Don't forget some tracks and races at the youth level do have a weekly payout, and even if it's a little bit, it all adds up. Merchandise is a great way for your friends, family, and fans to represent their favorite young driver and can also help make a little extra money for your race team. Feel obligated to give shirts away for free? Totally understandable! Try to phrase your shirt sales as a fundraiser for your team and maybe even mention what the money will specifically go towards. Ex. "We are selling shirts to fund Jamie's racing. If we sell every shirt, we will be able to purchase a new helmet for Jamie this season! Please help him/her reach their goal!"
How safe is youth racing?
Very safe! Of course due to the violent nature of professional motorsports, there's a stereotype that youth racing is extremely dangerous. The reality is, youth racing is no more dangerous than any other youth sport. Youth drivers wear a helmet, firesuit, neck restraint, racing shoes and gloves, arm restraints, 5-point harnesses, and in some cases, fire retardant full body racing underwear underneath their suits. There are safety crews and fire crews on site at the racetracks to respond to any accidents as well. Between all of these safety measures along with the thick tubing of the cars, custom sized seats, and more, injuries are rare in youth racing.
What age should my child start racing? Is there a such thing as too young or too old?
There is definitely no such thing as too old. Even though so many youngsters are cutting their teeth in motorsports at a young age, our sport welcomes anyone at any age! Some of the best professionals in motorsports got started in their 20's, so it's never too late. There's a reason there's not a cap on any of the age divisions. If you love it, just get started! On the other end of the spectrum, too early comes down to the child specifically. Every child learns and develops differently, and some kids are ready sooner than others. The most important element to keep in mind when it comes to getting your child started is your attitude. When your child is 4, 5, 6, or 7, keep in mind at those ages the child is still learning letters, numbers, reading, writing, and simply trying to figure out this whole life thing. While they might be capable of being behind the wheel of a racecar, keep your expectations realistic. We would advise that there's no specific age that is "too young" as long as you keep it about fun and learning. It's easy for your child to get burned out or lose their passion for the sport in the long run if they're pushed too hard early on. Try not to put too much pressure on them or expedite your long term plans for them, but rather treat it like a fun hobby to do as a family.
One of YRA's primary goals is educating and helping families new to youth racing by answering questions, helping you find tracks in your area, and guiding you towards equipment available to purchase. Check out our interactive map below where you can select your location and see tracks in your state and the type of cars that race there! Interested in learning more? Register for a 30 minute session with a member from Youth Racers of America who can answer any questions you have about getting your kid started! Don't wait…if your kid has a need for speed, join the fastest kids in town and contact Youth Racers of America today!
844-YRA-KIDS
contact@youthracersofamerica.com